Ortho® Home Defense® Backyard Mosquito and Bug Killer Ready-To-Spray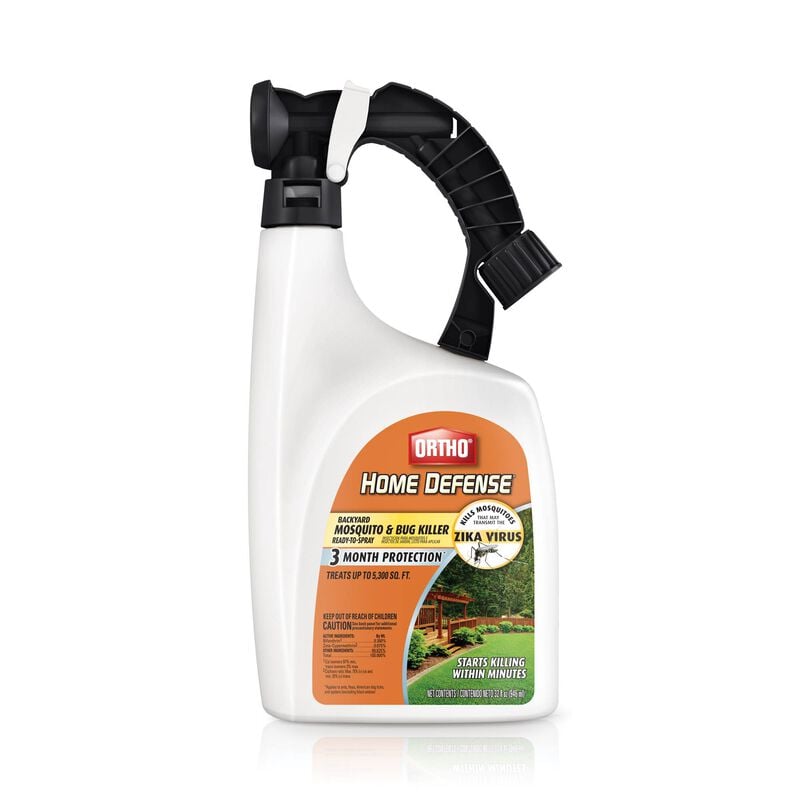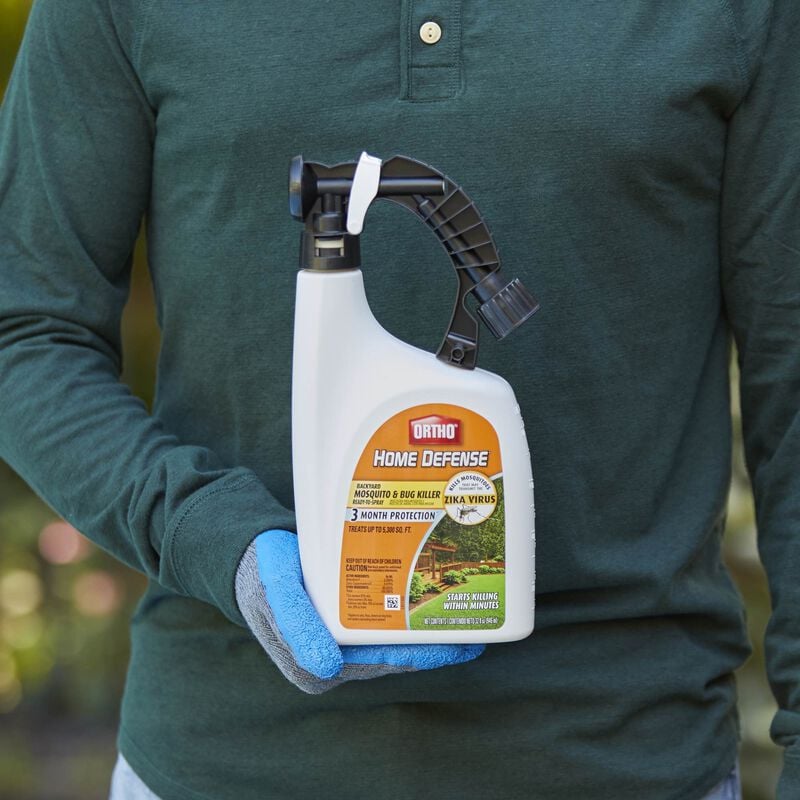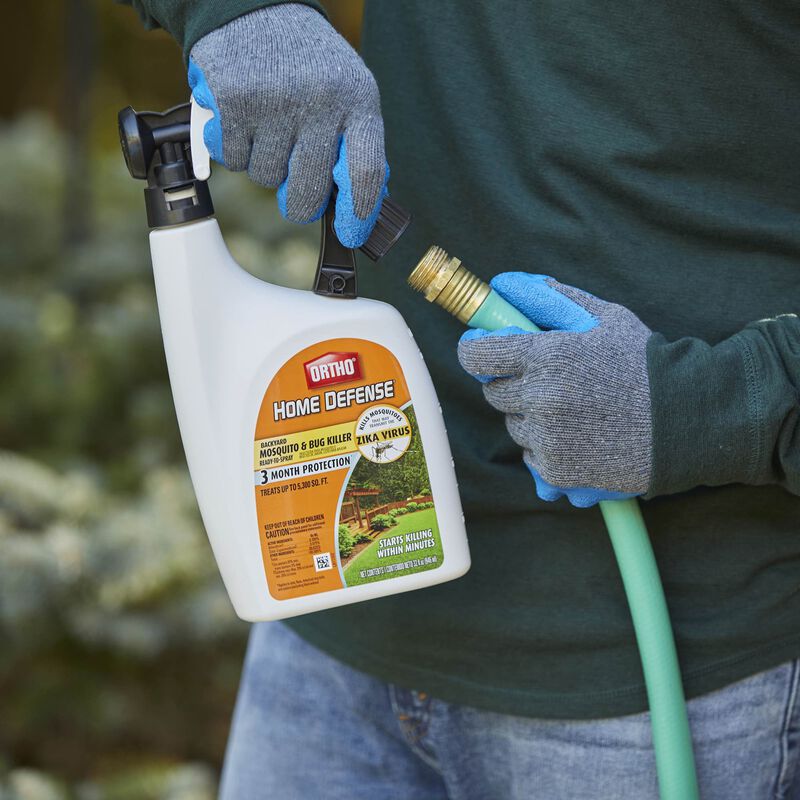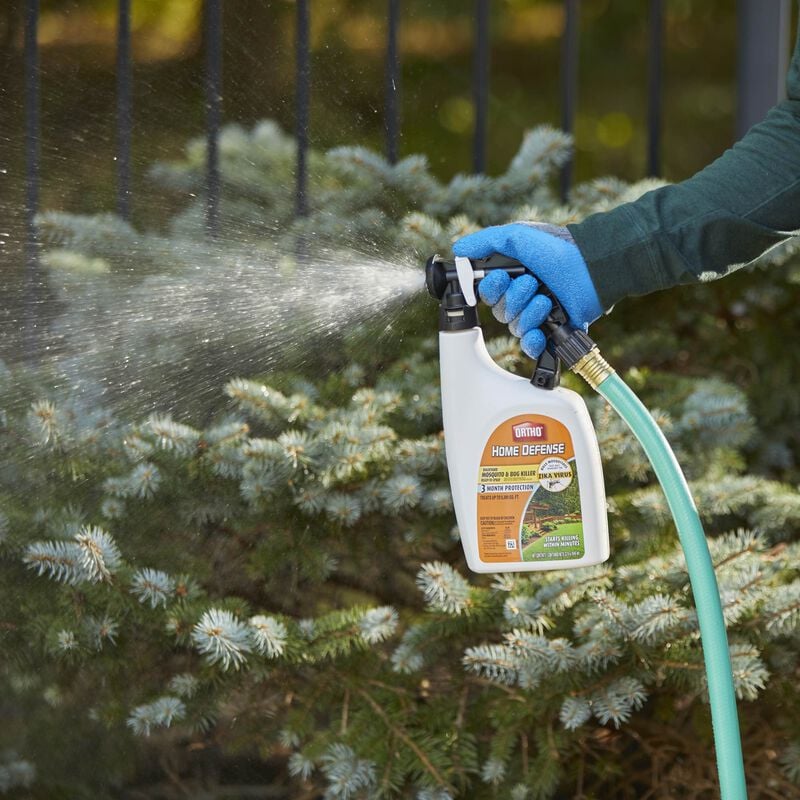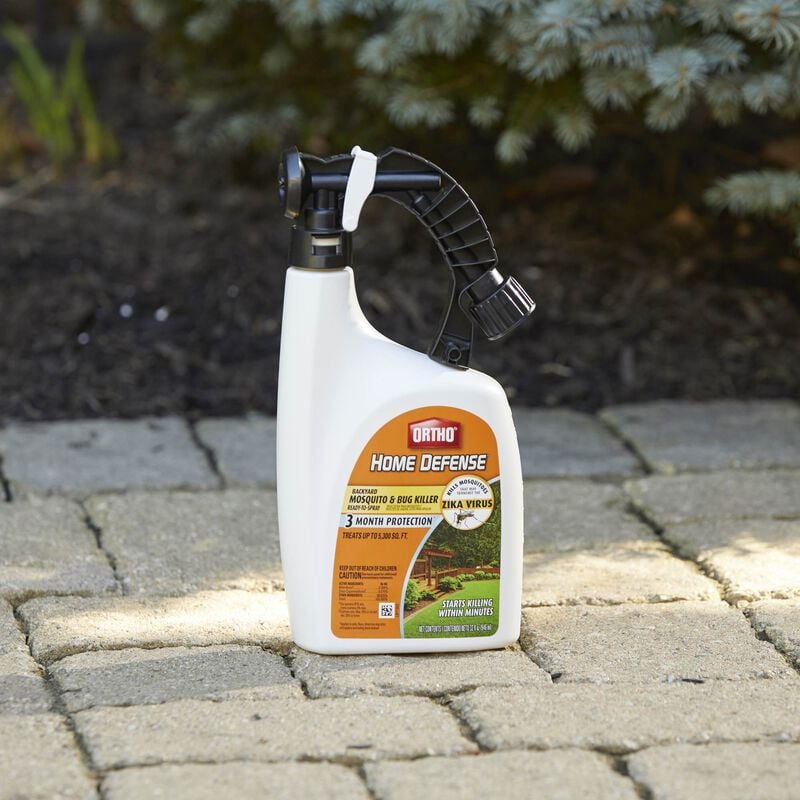 Ortho® Home Defense® Backyard Mosquito and Bug Killer Ready-To-Spray
Fall is in the air. Take 20% off your purchase of $49 or more 🍂
Overview
Kills mosquitoes that may transmit the Zika Virus
3 month protection (applies to ants, fleas, American dog ticks, and spiders excluding black widows)
Starts killing within minutes
Treats up to 5,300 sq ft
For use on lawns, around home perimeter, ornamentals, flowers, trees, shrubs, vegetables and fruit trees
Specs and Details
Active Ingredients
0.3% Bifenthrin, 0.075% Zeta-Cypermethrin
Cautions
Harmful if swallowed. Causes moderate eye irritation. Avoid contact with eyes or clothing. Wear long-sleeved shirt and long pants, socks, shoes, and gloves. Wash thoroughly with soap and water after handling and before eating, drinking, chewing gum, using tobacco, or using the toilet. Prolonged or frequently repeated skin contact may cause allergic reactions in some individuals.
Disposal Methods
If Empty: Do not reuse or refill this container. Place in trash or offer for recycling if available.

If Partly Filled: Call your local solid waste agency for disposal instructions. Never place unused product down any indoor (including toilet) or outdoor (including sewer) drain.
Product Label
This is not the product label. Always read and follow the product label before use.

Safety Data Sheets can be found at scottsmsds.com
Description
Ortho® Home Defense® Backyard Mosquito and Bug Killer Ready-To-Spray allows you to protect your lawn and landscape from mosquitoes that may transmit diseases like Zika and West Nile, as well as ticks, fleas, and over 200 other insects. Just hook it up to your hose and spray following label directions.
Step by Step Instructions
How to Use
Turn on water.
To begin spraying, slide lever to the ON position.
Spray only until the surface of leaves is wet. Apply evenly.
To stop spraying, slide lever to the OFF position.
Turn off water.
Relieve the water pressure by sliding the lever to WATER.
After water slows to a drip, slide the lever to the OFF position.
You can now disconnect the hose.
When and Where to Use
Where Not to Use
All outdoor applications must be limited to spot and crack-and-crevice treatments only, except for the following permitted uses:
1. Treatment to soil or vegetation around structures
2. Application to lawns, turf, and other vegetation
3. Application to building foundations, up to a maximum height of 3 feet.
Other than applications to building foundations, all outdoor applications to hard surfaces such as sidewalks, driveways, patios, porches and structural surfaces (e.g., windows, doors, and eaves) are limited to spot and crack-and-crevice applications only.

Application is prohibited directly into sewers or drains, or to any area like a gutter where drainage to sewers, storm drains, water bodies, or aquatic habitat can occur. Do not allow the product to enter any drain during or after application.

DO NOT TREAT Firewood
Where to Use
Roses and other ornamentals
Listed vegetables and fruit trees (see label)
Trees and shrubs
Lawns
Around house foundations, porches, patios and stored lumber
When to Apply
Apply when insects first appear.
How Often to Apply
Roses, trees, shrubs: every 7-14 days, as needed
Foundation: every 7-14 days
Lawns: 4-6 weeks
Edibles: every 7 days, as needed
Frequently Asked Questions
Our Guarantee
If for any reason you, the consumer, are not satisfied with this product, mail us proof of purchase to obtain a full refund of your purchase price.
Bugs Controlled
Mosquitoes--Malaria, Northern House, Yellowfever, including those that may transmit the Chikungunya virus, yellow fever, dengue fever, encephalitis, West Nile Virus and Zika Virus)
Adelgids--Eastern Sprucegall
Ants--Argentine, Carpenter, Harvester, Imported Fire, Lasius, Odorous House, Pavement, Pharaoh/Sugar, Pyramid
Aphids--Apple, Black Cherry, Black Pecan, Buckhorn, Greenbug, Pea, Root, Rose, Rosy Apple, Walnut, Yellow Pecan
Beetles--Bean leaf, Billbugs (Bluegrass), Cucumber (Banded, Spotted & Striped), Black Turfgrass Ataenius, Blister, Brown Leaf Notcher, Carpet, Colorado Potato, Corn Rootworm (Mexican, Northern, Southern, & Western), Curculio (Cow Pea & Plum), Elm Leaf, Flea (Black, Dichondra, & Sweetpotato), Ground, Japanese Adult, Ladybeetles, Mexican Bean, Pine Chafer, Pine Shoot, Red Flour, Rose Chafer, Sap, Southern Corn Leaf, Weevils (Annual Bluegrass, Black Vine, Blue Green Citrus Root, Carrot, Cranberry, Diaprepes Root, Little Leaf Notcher, Northern Pine, Orchard, Buckhorn, Greenbug, Pea, Orchid, Pea Leaf, Pecan, Pepper, Pine Shoot, Sweetpotato, Whitefringed
Bees
Borers--American Plum, Common Stalk, European Beetles Bean Leaf, Billbugs (Bluegrass), Com, Hop Vine, Lesser Peachtree, Peach Twig, Cucumber(Banded, Spotted & Striped), Black Peachtree, Southern Com, Southwestern Com, Turfgrass Ataenius, Blister, Brown Leaf Notcher, Squash Vine, Stalk
Mealybugs
Midges
Boxelder Bug
Caterpillars--Alfalfa, Alfalfa Looper, Armyworm (Beet, Fall, Southern, True, & Yellowstriped), Bagworms, Blueberry Spanworm, Budworm, Casebearers (Pecan Leaf & Pecan Nut), Celery Leaftier, Com Earworm (same as Tomato Fruitworm), Cross-Striped Cabbageworm, Cutworms (Black & Western Bean), Filbertworm, Fruitworms (Granberry, Green, & Tomato), Green Cloverworm, Hickory Shuckworm, Imported Cabbageworm, Loopers (Cabbage & Celery), Melonworm, Navel Orangeworm, Orange Tortrix, Painted Lady, Pickleworm, Ringworm, Saltmarsh, Tent, Hornworms (Tobacco & Tomato), Tomato Pinworm, Webworms (Fall, Mimosa, Oak, & Sod), Velvetbean,
Centipedes
Chinch Bugs--False, Hairy, Southern
Cockroaches--American, Asian, Brown Banded, German, Smoky Brown
Crickets
Earwigs
Fleas--Cat, Dog
Fleahoppers
Flies--Apple Maggot, Biting Flies, Cherry Fruit, Cornsilk, European Crane, House, Walnut Husk
Fungus Gnats
Grasshoppers
Hornets
Lace Bugs
Leaffooted Bugs--Squash Bug
Leafhoppers--Aster/California, Com, Eastern Grape, Glassy Winged Sharpshooter, Potato, Southern Garden, Western Grape
Leafminers--Alder, Boxwood, Holly, Oak, Spruce Needle, Tentiform, Vegetable
Leafrollers--Oblique Banded, Red-Banded, Variegated
Millipedes
Mites--Banks Grass, Broad, Carmine, Chigger, Clover, European, Grain, Pacific Spider, Pecan Leaf Scorch, Pecan Scorch, Red Spider, Spider, Spruce, Two-Spotted Spider
Mole Crickets
Moths--Artichoke Plume, Codling, Diamondback, Gypsy, Luceme, Oriental Fruit, Zimmerman Pine
Periodical Cicadas
Pillbugs & Rollie Pollies
Plant Bugs--Tarnished, Lygus Bugs
Phylloxera--Pecan Leaf, Pecan
Psyllids
Sawflies--European Pine, Redheaded Pine, Rose Slug
Scales--Brown Soft, California Red, Euonymus, Pine Needle, San Jose
Scorpions
Sowbugs
Spiders--Black Widow, Brown Recluse, Daddy Long Legs, Hobo, Burrowing Wolf, Pirate Wolf, Thin-legged Wolf
Spittlebugs--Meadow, Pecan
Stinkbugs--Brown Marmorated, Kudzu Springtails
Termites
Thrips
Ticks*--American Dog, Brown Dog, Deer (*including ticks that may transmit Lyme disease)
Treehoppers--Three-cornered Alfalfa Hopper
Wasps
Whiteflies
Wireworms--Corn, Southern Potato
Yellowjackets
Kids & Pets
People and pets may enter the treated area after the spray has dried.
Our Environment
Do not allow this product to run-off into storm drains, drainage ditches, standing water, and gutters.
bvseo_sdk, dw_cartridge, 18.2.0, p_sdk_3.2.0
CLOUD, getReviews, 5ms
reviews, product
bvseo-msg: Unsuccessful GET. status = 'ERROR', msg = 'Not Found.'; Unsuccessful GET. status = 'ERROR', msg = 'Not Found.';