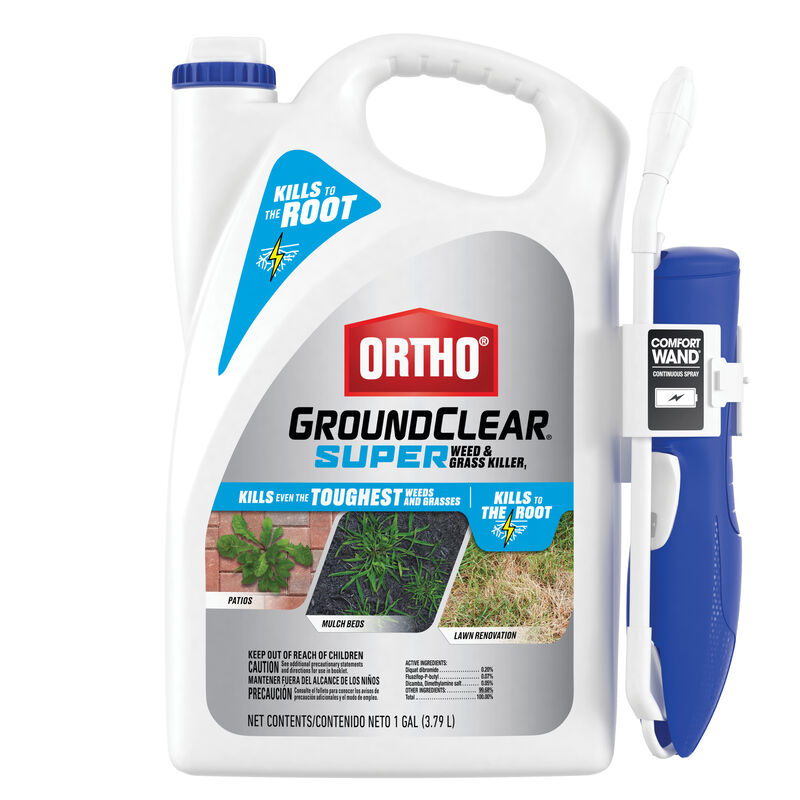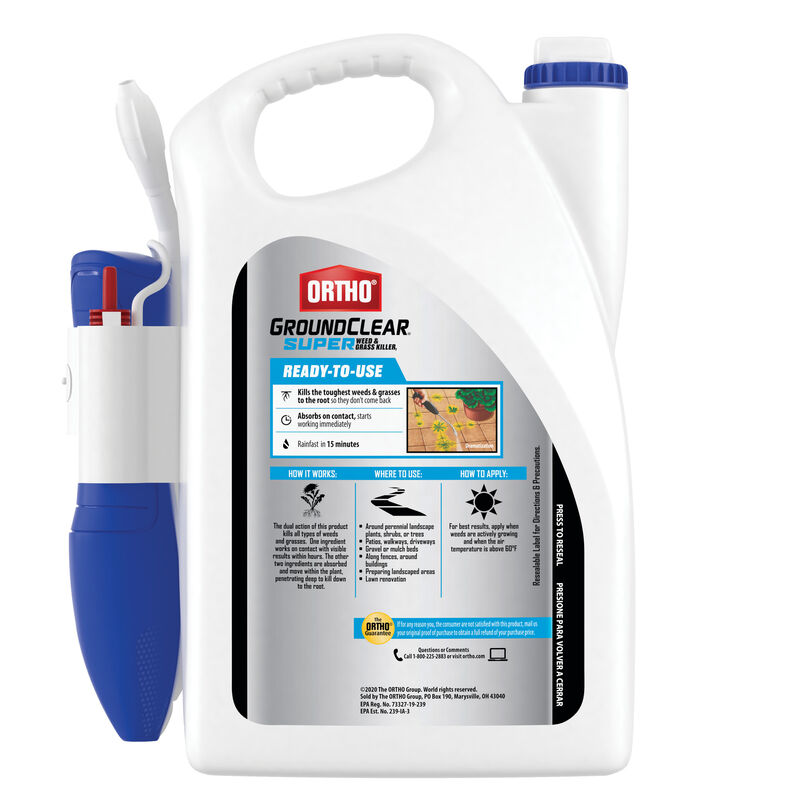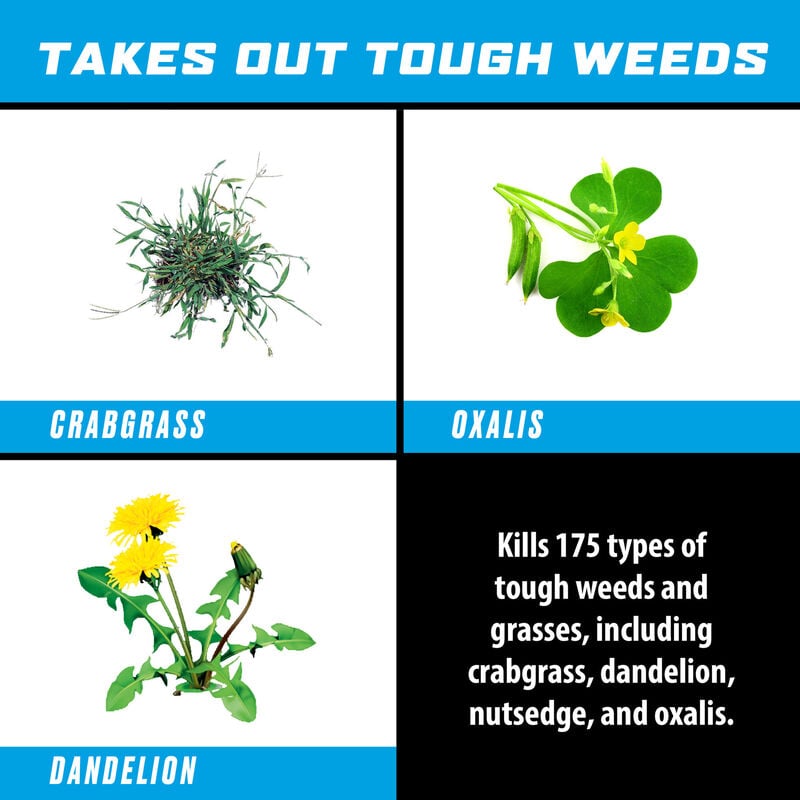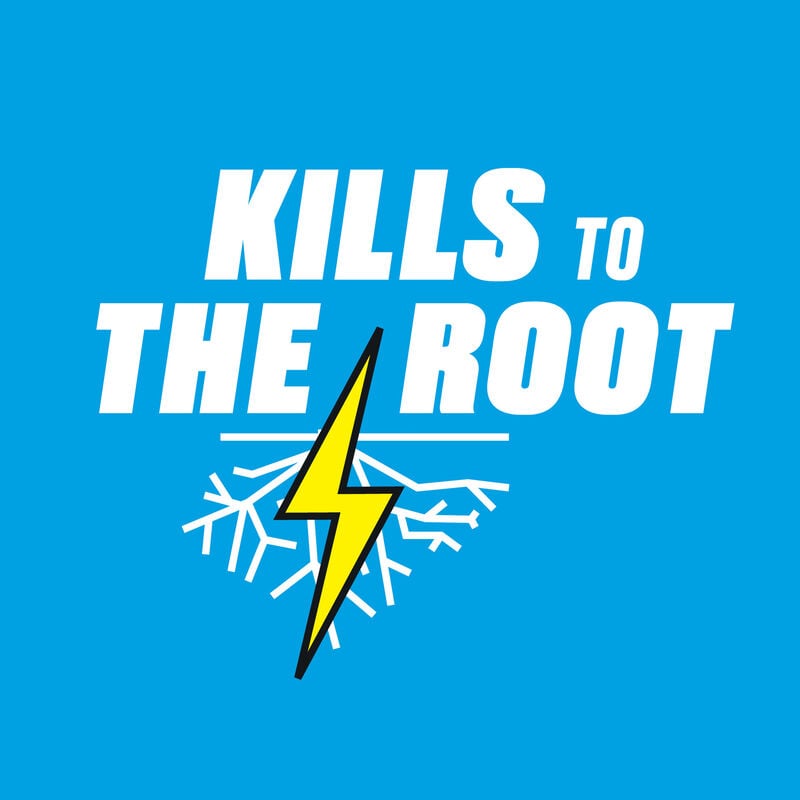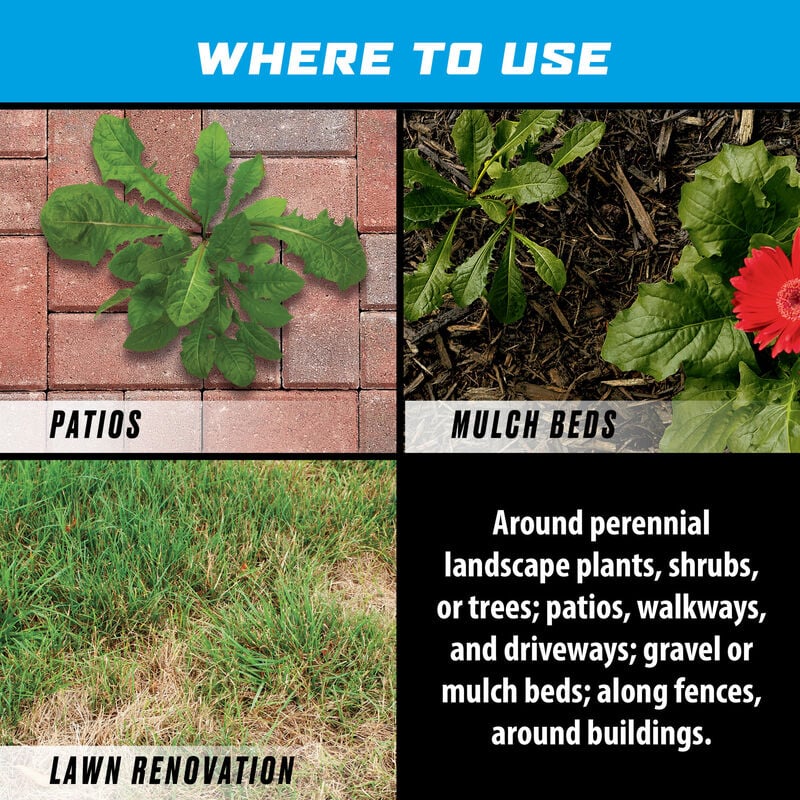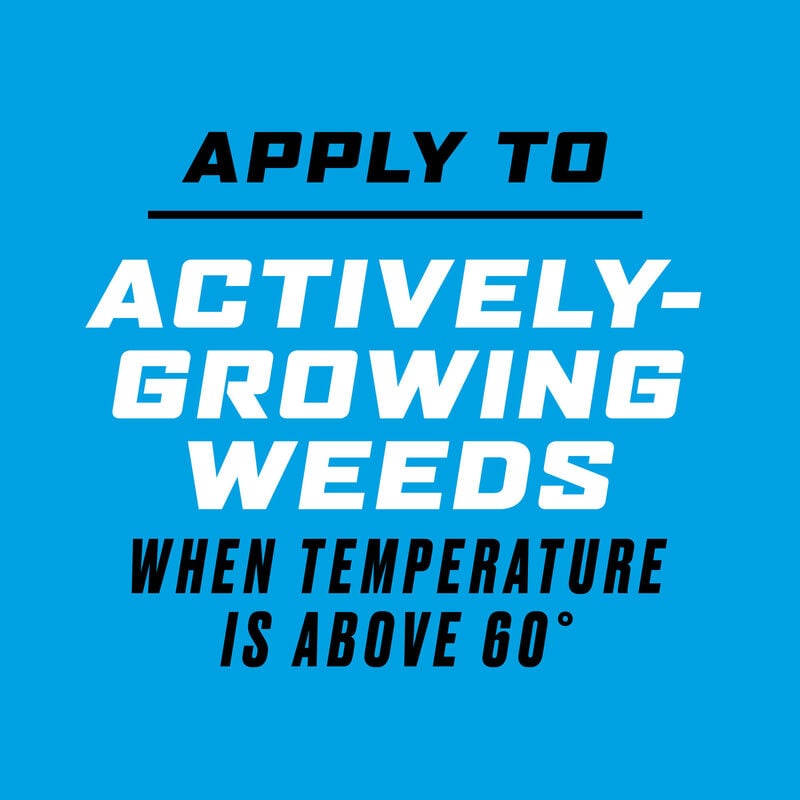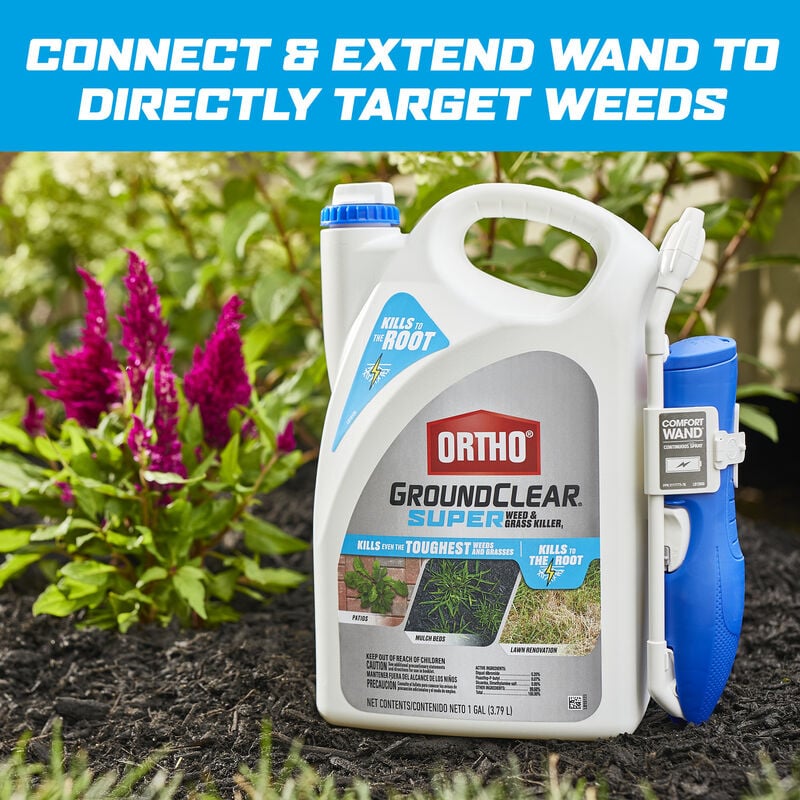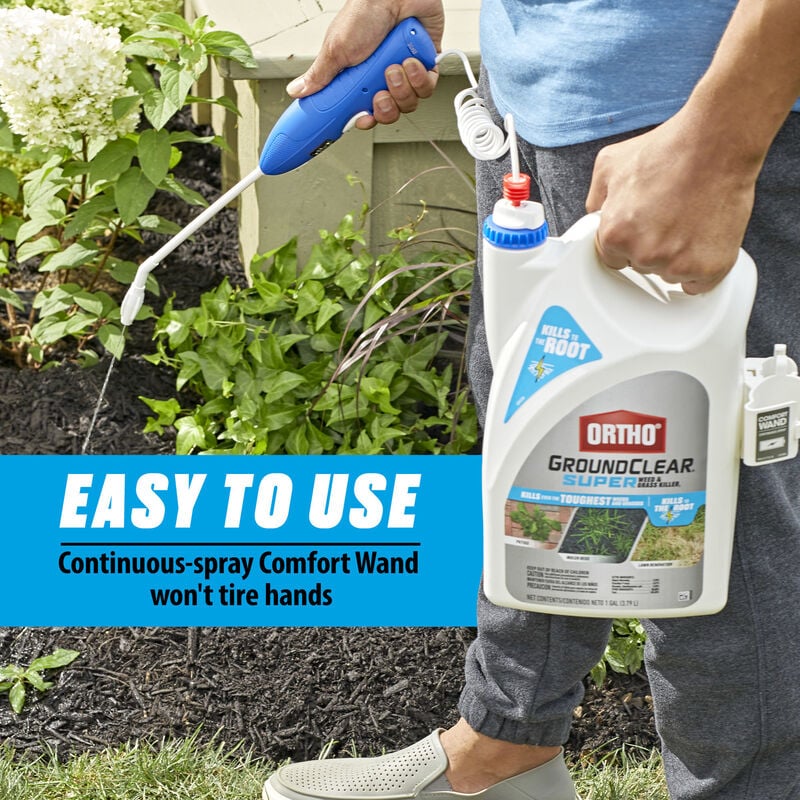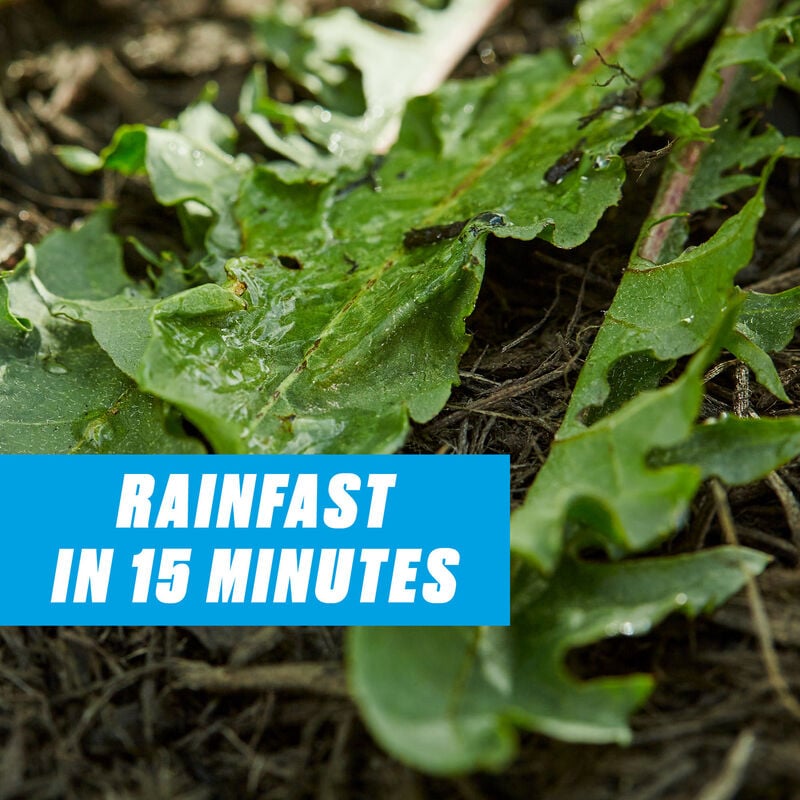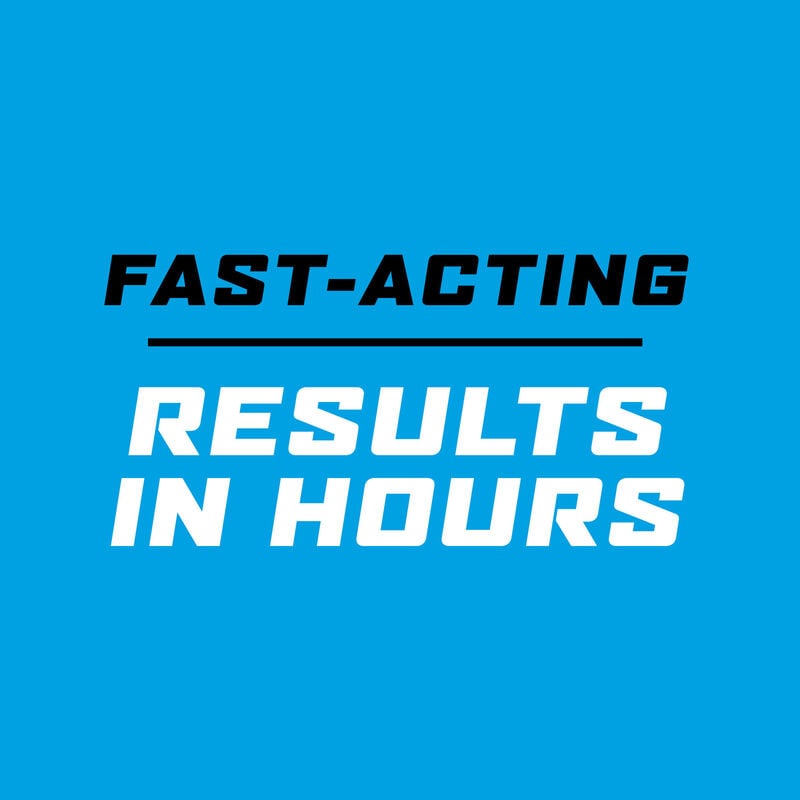 Ortho GroundClear Super Weed & Grass Killer1 with Comfort Wand
Overview
The dual action formula of Ortho® GroundClear® Super Weed & Grass Killer1 kills even the toughest types of weeds and grasses working on contact for fast results while moving down to the roots
FAST-ACTING: Weeds start to wilt within hours and completely die in 1-2 weeks with this quick kill formula that is rainfast 15 minutes after it's applied
MAXIMUM CONTROL: This powerful formula starts to work on contact as it is absorbed into the plant and works through its system to kill weeds right down to the root
WEEDS CAN'T HIDE: Ortho® GroundClear® will effectively kill weeds wherever they are - in gravel and mulch beds; around landscape areas; on patios, walkways, and driveways; and along fences and buildings
EASY TO USE: Use the attached continuous spray Comfort Wand to kill weeds easily and accurately without any bending, pumping, or hand-fatigue
Specs and Details
Active Ingredients
Diquat dibromide: 0.20%
Fluazifop-P-Butyl: 0.07%
Dicamba, Dimethylamine salt: 0.05%
Cautions
Avoid contact with skin or clothing.
Wash thoroughly with soap and water after handling and before eating, drinking, chewing gum, using tobacco, or using the toilet.
Prolonged or frequently repeated skin contact may cause allergic reactions in some individuals.
May cause eye irritation. Avoid contact with eyes. Protective eyewear is strongly recommended when mixing and applying this product.
Disposal Methods
If container is empty: The container is nonrefillable and should not be reused. Place in trash or offer for recycling if available. The Comfort Wand can be reused with another Ortho® GroundClear® Super Weed & Grass Killer1 refill bottle.
If container is partly filled: Call your local solid waste agency for disposal instructions. Never place any unused product down an indoor or outdoor drain.
Product Label
This is not the product label. Always read and follow the product label before use.
Safety Data Sheets can be found at scottsmsds.com
Description
Use Ortho® GroundClear® Super Weed & Grass Killer1 to kill 175 types of tough weeds and grasses including crabgrass, dandelion, nutsedge, and oxalis (as listed). Apply this ready-to-use spray around landscape areas, patios, walkways, gravel, mulched areas, along houses and fence lines, and on driveways when weeds are actively growing and the air is calm. It's fast-acting - weeds absorb it on contact so you'll start to see weeds and grass wilt within hours and completely die off in 1-2 weeks. Application is easy thanks to the attached continuous spray Comfort Wand. One ingredient works on contact while the other two ingredients are absorbed and move deep into the weed. Rainfall or watering 15 minutes after applying this weed and grass killer will not reduce the effectiveness of the weed control. A single application of Ortho® GroundClear® Super Weed & Grass Killer1 will start to control even the toughest weeds and grass right down to the roots, so they won't come back.
Step by Step Instructions
How to Use
Prepare to fight weeds by removing sprayer from the holder on the side of the Ortho® GroundClear® Super Weed & Grass Killer1 with Comfort Wand bottle. (The first time this product is used you'll need to activate the batteries by removing the pull strip.)
Next unfold the wand until it clicks into position.
Unwrap hose and insert hose connector into spout on the cap. When it clicks, it's in place.
Shake the container gently and then twist knob to "ON." Set your desired spray pattern on the spray nozzle, then slide the trigger switch to "Unlock."
Squeeze trigger to spray. Apply in a uniform motion to get weeds wet but not to the point of runoff.
When you have treated all of the weeds, turn the sprayer nozzle to "OFF." Slide the trigger switch to "Lock" and twist knob to "OFF."
Before putting away, fold wand closed and place sprayer back in holder. Store the bottle in a safe location until needed again.
Where Not to Use
DO NOT spray this weed killer on or around food or feed crops.
You should also not spray any plants you want to keep.
Where to Use
Ortho® GroundClear® Super Weed & Grass Killer1 can be used to spot-treat weeds around perennial landscape plants, shrubs or trees.
It can also be used across patios, walkways, driveways, gravel or mulch beds, and along fences or around buildings.
It can also be used in broadcast applications when performing lawn renovations or preparing landscaped areas.
When to Apply
To achieve the best results, apply when weeds are actively growing, the air is calm, and the temperature is above 60°F.
Applying in calm weather when rain is not predicted for 24 hours will also help to ensure that wind or rain does not blow or wash pesticide off the treatment area.
How Often to Apply
Do not make more than two broadcast applications per year.
Special Instructions
Watering Tips
If the soil in the area that is to be treated is dry, water every other day for a week before applying this weed killer.
Frequently Asked Questions
Our Guarantee
If for any reason you, the consumer, are not satisfied with this product, mail us proof of purchase to obtain a full refund of your purchase price.
Weeds Controlled
Alder, Aspen Quaking, Bahiagrass, Barley Wild, Bedstraw, Beggarweed, Beggarweed Creeping, Beggarweed Florida, Bermudagrass, Bentgrass, Bindweed Field, Blackberry Wild, Bluegrass, Bluegrass Annual, Bluegrass Kentucky, Brassbuttons, Broadleaf Signalgrass,Bromegrass, Bromegrass Smooth, Brownseed, Brome Downy, Bur clover, Buttercup, Buttercup Roughseed, Buttercup Tall, Carrot Wild (Queen Anne's Lace), Catchy Nightowering, Cattail, Ceanothus, Centipedegrass, Chamomile Corn, Cheeseweed, Chickweed, Chickweed Common, Chickweed Mouseear, Clover, Clovers (Annual), Clover Red, Clover Sweet, Clover White, Cockle White, Cocklebur, Cogongrass, Coral bead, Crabgrass, Crabgrass Hairy, Crabgrass Large,Crabgrass Smooth, Crabgrass Southern, Crabgrass Tropical,Creeping Charlie, Cupgrass Prairie, Cupgrass Southwestern, Cupgrass Woolly, Cudweed Purple, Dallisgrass, Dandelion, Dandelion False, Dewberry, Dock Curly, Dog fennel (Cypressweed), Eveningprimrose, Eveningprimrose Common, Eveningprimrose Cutleaf, Fennel, Fescue species, Fescue Tall, Fiddleneck, Filaree, Foxtail, Foxtail Giant, Foxtail Green, Foxtail Yellow, Geranium Wild, Goosegrass, Groundsel Common, Guineagrass Seedling, Henbit, Horsenettle, Horseradish, Iceplant, Ironweed, Itchgrass, Johnsongrass, Johnsongrass Rhizome, Johnsongrass Seedling, Junglerice, Kikuyugrass, Knapweed, Knapweed Black, Knapweed Diuse, Knapweed Russian, Knapweed Spotted,Knawel,, Knotweed, Kochia, Ladysthumb, Lambsquarters, Lambsquarters Common, Lantana,Lettuce Prickly, Little Bitter Cress, London Rocket, Lovegrass Diuse, Mallow, Mallow Common, Mallow Venice, Marestail (Horseweed), Mayweed, Medic Black, Medic Blue, Milkweed, Morningglory Ivyleaf, Morningglory Tall, Morningglory Wild, Mullein Common, Mustard Blue, Mustard Tansy, Mustard Tumble, Mustard Wild, Nimblewill, Nutsedge (Nutgrass), Nutsedge yellow, Nutsedge purple, Oats wild, Oldenlandia, Orchardgrass, Oxalis, Oxalis yellow, Pampasgrass, Panicum Fall, Panicum Texas, Paspalum, Pennycress Field (Fanweed, Frenchweed, Stinkweed), Pennywort, Pigweed, Pigweed Prostrate, Pigweed Redroot (Carelessweed), Pigweed Rough, Pigweed Smooth, Pigweed Tumble, Plantain, Plantain Broadleaf, Plantain Buckhorn, Plantain common, Puncturevine, Purslane, Purslane Common, Pusley Florida, Quackgrass, Rabbitfootgrass, Ragweed, Ragweed Common, Ragweed Giant (Bualoweed), Ragwort Tansy, Sandbur Field, Sandbur Southern, Sandspur, Sesbania Hemp, Shattercane, Shepherdspurse, Sida Prickly (Teaweed), Smartweed, Smartweed Green, Smartweed Pennsylvania, Smartweed Swamp, Smooth Cat's Ear, Sorghum almum, Sourdock, Sowthistle, Sowthistle Annual, Sowthistle Spiny, Sprangletop, Spurge, Spurge Garden, Spurge Leafy, Spurge Prostrate, Spurge Spotted, Starthistle Yellow, St. Augustine grass, Thistle Artichoke, Thistle Bull, Thistle Canada, Timothy, Toadax Blue, Torpedograss, Trumpetcreeper (Buckvine), Vaseygrass, Velvetleaf, Virginia Creeper, Whitetop, Wild Oats, Wild Proso Millet, Wirestem Muhly, Witchgrass, Yarrow, Yarrow Common
Kids & Pets
People and pets may enter the treated area after it has dried.
Our Environment
Do not allow this product to enter or run off into storm drains, drainage ditches, gutters or surface waters.
This product is toxic to plants and may adversely impact the forage and habitat of non-target organisms, including pollinators, in areas adjacent to the treated site.
This pesticide is toxic to aquatic invertebrates.
bvseo_sdk, dw_cartridge, 18.2.0, p_sdk_3.2.0
CLOUD, getReviews, 5ms
reviews, product
bvseo-msg: Unsuccessful GET. status = 'ERROR', msg = 'Not Found.'; Unsuccessful GET. status = 'ERROR', msg = 'Not Found.';