Ortho® Weed B-Gon™ Lawn Weed Killer Ready-To-Use + Crabgrass Control with Comfort Wand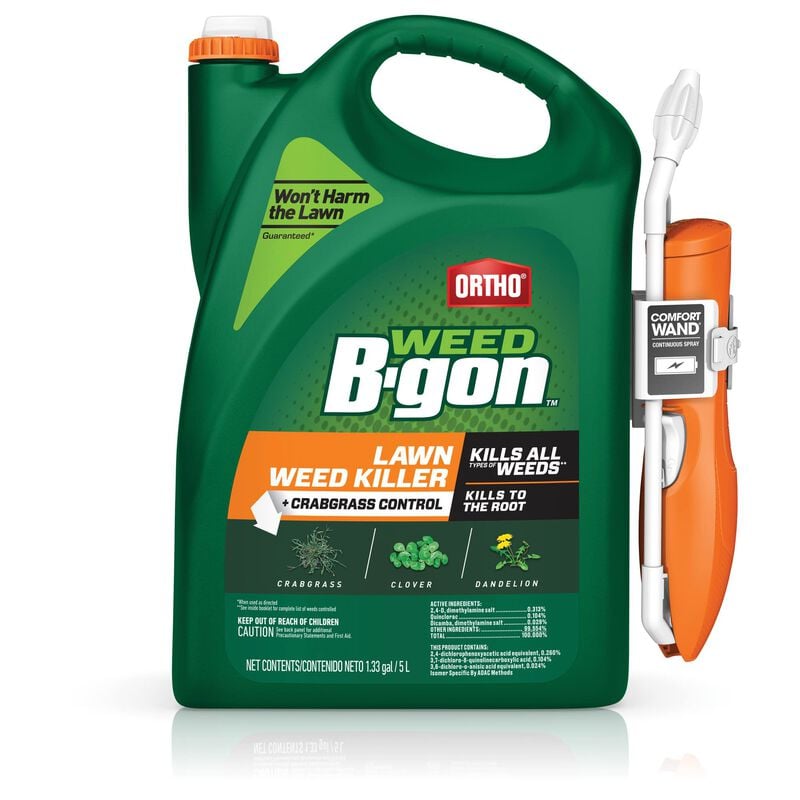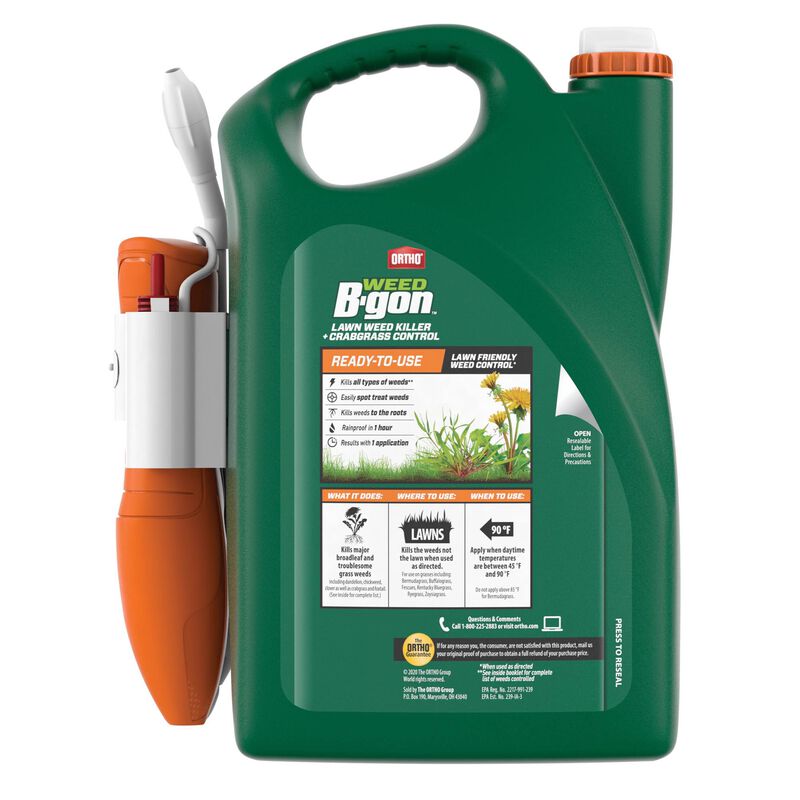 Ortho® Weed B-Gon™ Lawn Weed Killer Ready-To-Use + Crabgrass Control with Comfort Wand
Fall is in the air. Take 20% off your purchase of $49 or more 🍂
Overview
Kills crabgrass, dandelions and other common lawn weeds
Kills weeds to the roots
Kills 200+ weeds
Won't harm the lawn (when used as directed)
Starts working immediately
Specs and Details
Active Ingredients
0.313% 2,4-D Dimethylamine Salt; 0.104% Quinclorac; 0.029% Dicamba, Dimethylamine Salt
Cautions
Do not use clippings from the treated areas as mulch or compost around flowers, ornamentals, trees, or in vegetable gardens.
An application to bermudagrass may cause temporary yellowing or discoloration but full recovery can be expected.
Keep this container from freezing.
Disposal Methods
The Comfort Wand® can be reused with an Ortho® Weed B-gon™ Lawn Weed Killer Ready-To-Use + Crabgrass Control Refill bottle.
The container is nonrefillable. Do not reuse or refill.
If empty: Place in trash or offer for recycling if available.
If partly filled: Call your local solid waste agency for disposal instructions. Never place unused product down any indoor or outdoor drain.
Product Label
T

his is not the product label. Always read and follow the product label before use.

Safety Data Sheets can be found at scottsmsds.com
Description
Ortho® Weed B-gon™ Lawn Weed Killer Ready-To-Use + Crabgrass Control kills crabgrass, dandelions and other listed common lawn weeds to the root! With the convenient Comfort Wand ® Applicator, you can kill 200+ weeds without damaging your lawn* for easy and effective spot treatment. And Ortho® Weed B-gon™ starts working immediately—you'll see results in hours! *When used as directed.
Step by Step Instructions
How to Use
Prepare the Ortho® Weed B-gon™ Lawn Weed Killer Ready-To-Use + Crabgrass Control with Comfort Wand® bottle for its initial use by removing the sprayer from the holster. Pull the white strip to activate the batteries then unfold the wand until it clicks into position.
Unwrap the hose and insert the hose connector into the spout of the bottle. Push until it clicks into place.
Twist the knob (near the hose connector) "ON."
Turn the sprayer nozzle to the desired spray pattern.
Slide the switch on the trigger to "UNLOCK."
Press the trigger to spray. Aim at the center of the weed and spray to lightly cover weeds. (Make certain that the spray does not come into contact with any person or pet, either directly or through drift).
When you have completed treating an area, turn the nozzle to "OFF."
Slide the trigger switch to "LOCK."
Twist the knob (near the hose connector) "OFF."
Fold the wand closed and place the sprayer in the holster.
Store the bottle in a secure location until it is needed.
When and Where to Use
Where Not to Use
Do not use on St. Augustinegrass, Bahiagrass, Bentgrass, Carpetgrass, Centipedegrass, Seashore Paspalum, lawns with desirable clovers or legumes, Dichondra, Ornamental plants (flowers, trees, groundcovers, landscape beds and shrubs), Gardens (including vegetables, fruit trees, vines, and berries), and turfgrass species that are not listed.
Do not spray the exposed roots of ornamentals and trees.
This should not be used near the dripline of trees and shrubs.
Where to Use
Use on established, residential lawns of Bermudagrass (common and hybrid), Zoysiagrass, Buffalograss, Kentucky bluegrass, Ryegrass (perennial and annual), Tall fescue, and Fine fescue.
When to Apply
Apply in the spring before crabgrass is 4 inches tall or when crabgrass is first noticeable.
Applications should be made when daytime temperatures are below 90°F (do not apply to Bermudagrass when it is above 85°F) and weeds are young and actively growing.
For new lawns, apply only when grass has reached a height of at least 2 inches.
Avoid applications during the spring transition of warm season grasses.
How Often to Apply
Certain hard-to-kill weeds may need to be spot treated 14 days after the initial application.
Special Instructions
Watering Tips
If the lawn is dry, water 24 hours before applying. Do not water the lawn again until 24 hours after a treatment.
Frequently Asked Questions
Our Guarantee
If for any reason you, the consumer, are not satisfied with this product, mail us proof of purchase to obtain a full refund of your purchase price
What It Controls
Weeds Controlled
GRASS WEEDS: Crabgrass, large and smooth; Foxtail, green, yellow and giant Signalgrass, broadleaf.
BROADLEAF WEEDS: Annual yellow sweetclover, Aster, Austrian fieldcress; Bedstraw; Beggarticks; Betony, Florida; Bindweed field; Bird vetch; Bitter wintercress; Bittercress, hairy, Bitterweed, Black-eyed Susan; Black medic Black mustard; Blackseed plantain; Blessed thistle; Blood flower milkweed; Blue lettuce; Blue venain; Bracted plantain; Brassbuttons; Bristly oxtongue; Broadleaf dock, Broadleaf plantain; Broomweed, Budihom; Buckhorn plantain; Bulbous buttercup; Bull thistle; Bullnettle; Burdover; Burdog Burning nettle; Burweed; Buttercup; Buttonweed; Canada thistle; Carolina geranium; Carpetweed; Catchweed bedstraw; Catnip; Catsear, Chickweed, common; Chickweed, mouseear; Chicory; Cinquefoil; Clover, crimson; Clover, hop; Clover, red; Clover, strawberry, Clover, sweet; Clover, white; Cockle, Cocklebur, Common mullein, Creeping Jenny (Creeping Charlie); Cudweed; Curly dock; Daisy, English; Daisy fleabane; Daisy, oteve; Dandelion; Dichondra; Dogbane; Dogfennel; Dollarweed; False dandelion; False flax, False sunflower; Fiddleneck; Florida pusley, Frenchweed; Galinsoga; Goathead; Goldenrod; Ground ivy, Gumweed; Hairy fleabane; Hawkweed Healall, Heartleaf drymary, Heathaster, Hedge bindweed; Hedge mustard; Hemp; Henbit; Hoary dress; Hoary plantain; Hoary vervain; Horsenettle; Jimsonweed; Knawel; Knotweed; Kochia; Lambsquarters Lespedeza; Mallow; Matchweed; Mexicanweed; Milk vetch; Momingglory; Mouseear hawkweed; Mugwort: Musk thistle; Mustard; Narrowleaf plantain; Narrowleaf vetch; Nettle; Orange hawkweed; Oriental cocklebur, Oxalis; Parsley-piert, Parsnip; Peartwort; Pennycress; Pennywort; Peppergrass; Pepperweed; Pigweed; Pineywoods bedstraw; Plains coreopsis (tickseed); Plantain; Poison ivy; Poison oak; Pokeweed; Poorjoe; Prairie sunflower, Prickly lettuce; Prickly sida; Prostrate knotweed; Prostrate pigweed; Prostrate spurge; Prostrate vervain; Puncturevine; Purslane, common; Ragweed; Red sorrel; Redroot pigweed; Redstem filaree; Rough cinquefoil, Rough fleabane; Russian pigweed; Russian thistle; Scarlet pimpernel; Scotch thistle; Sheep sorrel; Shepherd's purse; Slender plantain; Smallflower galinsoga; Smooth dock; Smooth pigweed; Sorrel; Sowthistle; Spanishneedles; Speedwell; Spiny amaranth; Spiny cocklebur; Spiny sowthistle; Spotted catsear, Spotted spurge; Spurweed; Stinging nettle; Strawberry, India mock; Tall nettle; Tall vervain; Tansy ragwort; Tansy mustard; Tanweed; Thistle; Trailing crownvetch; Tumble mustard; Tumble pigweed; Velvetleaf; Venice mallow; Virginia buttonweed; Virginia creeper; Virginia pepperweed; Wavyleaf bull thistle; Western clematis; Western salsify, White mustard; Wild aster; Wild buckwheat; Wild carrot; Wild four-o'clock; Wild garlic; Wild geranium; Wild lettuce; Wild marigold; Wild mustard; Wild onion; Wild parsnip; Wild radish; Wild rape; Wild strawberry; Wild sweet potato; Wild vetch; Wild violet; Woodsorrel; Woolly croton; Woolly morningglory; Woolly plantain; Wormseed; Yarrow; Yellow rocket; Yellowflower pepperweed.
Kids & Pets
People and pets may reenter the treated area after it has dried.
Our Environment
To protect the environment, do not allow pesticide to enter or run off into storm drains, drainage ditches, gutters, or surface waters. Applying in calm weather when rain is not predicted for the next 24 hours will help ensure that wind or rain does not blow or wash pesticide off the treatment area.
The use of this chemical in areas where soils are permeable, particularly where the water table is shallow, may result in groundwater contamination. Application around a cistern or well may result in contamination of drinking water or groundwater.
bvseo_sdk, dw_cartridge, 18.2.0, p_sdk_3.2.0
CLOUD, getReviews, 22ms
reviews, product
bvseo-msg: Unsuccessful GET. status = 'ERROR', msg = 'Not Found.'; Unsuccessful GET. status = 'ERROR', msg = 'Not Found.';