Ortho® WeedClear™ Lawn Weed Killer Concentrate2 (South)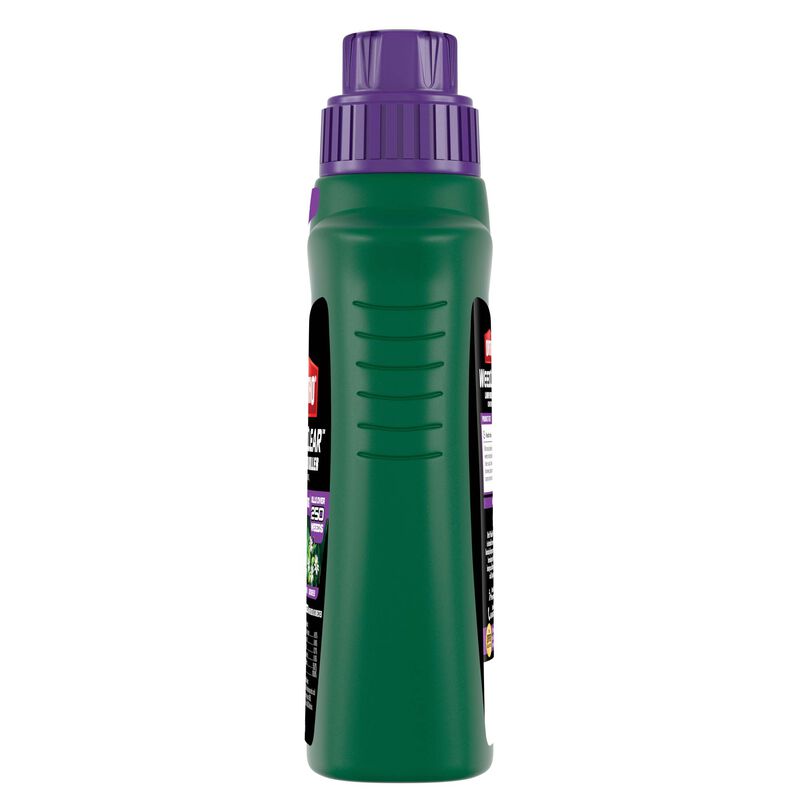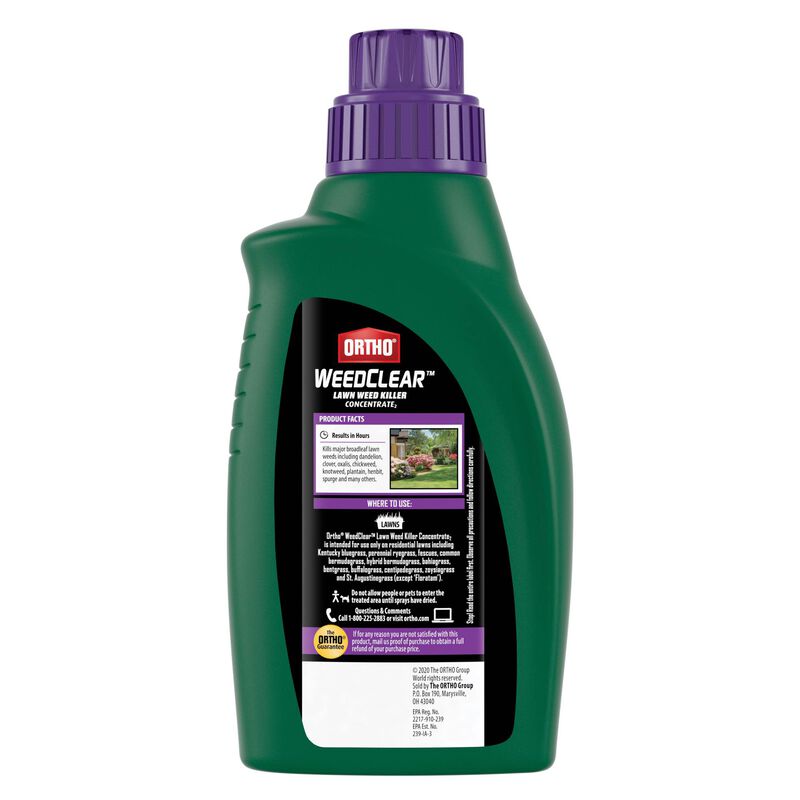 Ortho® WeedClear™ Lawn Weed Killer Concentrate2 (South)
Fall is in the air. Take 20% off your purchase of $49 or more 🍂
Overview
Ortho® WeedClear™ Lawn Weed Killer Concentrate2 kills over 250 listed weeds
This weed killer controls listed broadleaf weeds like dollarweed, clover, dandelion, chickweed, oxalis, knotweed, henbit, and plantain
Apply this herbicide in the spring, summer, and fall when weeds are young and actively growing
Designed for residential lawns including Kentucky bluegrass, perennial ryegrass, fescues, common and hybrid bermudagrass, bahiagrass, bentgrass, buffalograss, centipedegrass, zoysiagrass, and St. Augustinegrass (except Floratam)
This product is a concentrate and cannot be applied directly out of its container - please read product label for specific application instructions
Specs and Details
Active Ingredients
2,4-D, 2-ethylhexyl ester: 4.01%
Mecoprop-p acid: 0.49%
Dicamba acid: 0.27%
Carfentrazone-ethyl: 0.16%
Cautions
Avoid contact with skin, eyes, and clothing at all times by wearing a long-sleeved shirt, pants, socks, shoes, and gloves.
Following application, wash thoroughly with soap and water before carrying on with normal activities.
Disposal Methods
The container is not intended for refill.
Instead, place in trash or recycle. If the container still contains some product, call your local solid waste agency for disposal instructions.
Never dispose of unused product down any indoor or outdoor drain.
Product Label
This is not the product label. Always read and follow the product label before use.
Safety Data Sheets can be found at scottsmsds.com




Description
Ortho® WeedClear™ Lawn Weed Killer Concentrate2 kills many listed broadleaf weeds and it won't harm your lawn (when used as directed). With results in hours, it kills over 250 weeds down to the roots, including dandelion, clover, oxalis, chickweed, knotweed, plantain, henbit, and spurge. Ortho® WeedClear™ Lawn Weed Killer Concentrate2 is for use on multiple lawn varieties, including Kentucky bluegrass, perennial ryegrass, fescues, common bermudagrass, hybrid bermudagrass, bahiagrass, bentgrass, buffalograss, centipedegrass, zoysiagrass, and St. Augustinegrass (except Floratam). Apply this herbicide in the spring, summer, and fall when weeds are young and actively growing. Spring and fall treatments under adequate soil moisture conditions are preferred to the summer treatments. This product is a concentrate. It cannot be applied directly out of its container. See the product label for the amount to use. Easily apply with an Ortho® Dial N Spray® or tank sprayer. Use Ortho® WeedClear™ Lawn Weed Killer Concentrate2 to kill weeds to the roots!
Step by Step Instructions
How to Use
It's easy to apply Ortho® WeedClear™ Lawn Weed Killer Concentrate2 with an Ortho® Dial-N-Spray® or Tank Sprayer.
Simply prepare the products according to "Mixing Instructions" on the label and elsewhere on this webpage.
Different grass types require different product amounts, and if you're usng a Tank Sprayer, you'll mix with water.
To spray, walk to the farthest point of the application area and walk back, evenly spraying as you go.
When and Where to Use
Where Not to Use
Ortho® WeedClear™ Lawn Weed Killer Concentrate2 is designed for residentialoutdoor use only on the grasses specified.
Do not apply to carpetgrass, dichondra, food crops (gardens, fruits, and vegetables), forage crops, or ornamental plants including flowers, trees, shrubs, hedges, woody ornamentals, groundcovers established in landscape plantings, and other non-target plants.
Where to Use
This innovative lawn weed killer concentrate is intended for use on residential lawns including Kentucky bluegrass, perennial ryegrass, fescues, common bermudagrass, hybrid bermudagrass, bahiagrass, bentgrass, buffalograss, centipedegrass, zoysiagrass, and St. Augustinegrass (except Floratam).
When to Apply
For maximum weed killing results on established lawns, apply when broadleaf weeds are young and actively growing in the spring, summer, or fall when daytime temperatures are below 90°F.
Under adequate soil moisture conditions, spring and fall are preferred to summer treatments as applications to older, drought-stressed weeds have been proven less effective.
For newly seeded areas, apply approximately six weeks after seedling emergence or after the third mowing.
For newly sodded, sprigged, or plugged areas, wait for 3 to 4 weeks before applying this product.
How Often to Apply
Although a single application will prove highly effective under most circumstances, mature weeds, dense infestations, and adverse environmental conditions may require follow-up treatments at 30-day intervals.
Special Instructions
Following a treatment, applicator and all equipment should be rinsed over the lawn and garden only to prevent runoff or damage to surrounding species.
Do not apply when it's windy outside.
Watering Tips
The performance of this product is enhanced under sufficient soil moisture and favorable growing conditions.
If you're experiencing dry conditions, try watering the treatment area before and after the application according to package instructions.
Be mindful that you don't water to the point of runoff, and always rinse applicator equipment over the lawn or garden area.
Using with other Products
Following the application of this product, treated areas can be reseeded after two weeks.
In the event of an insect infestation, apply Ortho® BugClear™ Insect Killer for Lawns & Landscapes no sooner than 4 weeks after application.
Mixing Directions
When using a Tank Sprayer on Bentgrass, Hybrid Bermudagrass, Buffalograss, Centipedegrass, and St. Augustinegrass (except ''Floratam''), mix 1.5 fl. oz. (3 Tbs) of product into 1 gallon of water to cover 500 sq. ft.
When using a Tank Sprayer on Kentucky Bluegrass, Bahiagrass, CommonBermudagrass, Fescues, Perennial Ryegrass, and Zoysiagrass, mix 3.0 fl. oz. (6 Tbs) of product into 1 gallon of water.
When using an Ortho® Dial-N-Spray® on Bentgrass, Hybrid Bermudagrass,Buffalograss, Centipedegrass, and St. Augustinegrass (except ''Floratam''), add 3.0 fl. oz. (6 Tbs) of product into sprayer jar for every 1,000 sq. ft. without adding water to the jar.
Frequently Asked Questions
Our Guarantee
If for any reason you, the consumer, are not satisfied with this product, mail us proof of purchase to obtain a full refund of your purchase price.
Weeds Controlled
Amaranth (purple, slender), Aster (heath, white heath, purple, white prairie), Artichoke, Austrian fieldcress, Bedstraw (catch-weed, smooth, northern, pineywoods), Beggar-ticks (hairy), Betony (Florida), Bindweed (field, hedge), Bitter Wintercress, Bitter-cress (hairy), Bitterweed, Black-eyed Susan, Blackmedic, Blood-flower milkweed, Blue lettuce, Brassbuttons, Bristly oxtongue, Broomweed, Buckhorn, Bull-nettle, Bur-clover, Burdock, Burweed (lawn), Buttercup (bulbous, creeping), Buttonweed (common (poorjoe), Virginia), Carolina geranium, Carpetweed, Catnip, Catsear (spotted (false dandelion)), Chamber bitter, Chickweed (common, mouse-ear, sticky), Chicory, Cinquefoil, Clover (crimson, Alyce, hop, rabbit-foot, red, strawberry, yellow sweet, whitesweet, white, Cockle, Cocklebur, Cocklebur spiny), Common mullein, Corn spurry, Creepingbeggar-weed, Creeping Jenny (creeping Charlie), Cupid's shaving brush, Cudweed, Daisy (English, oxeye), Dandelion (common, false), Day-flower, Deadnettle, Dichondra, Dock (broadleaf, curly), Dogbane, Dog-fennel, Dollarweed (Pennywort), Dove-weed, Elderberry, Falseflax, False sunflower, Fiddleneck, Filaree (redstem, whitestem), Fleabane (daisy (annual), rough), Galinsoga (hairy, smallflower), Goldenrod, Groundivy, Groundsel, Gumweed, Hairy fleabane, Hawkweed (meadow, mouse-ear, orange, yellow), Healall, Heart-leaf drymary, Hemp, Henbit, Hoary-cress, Horsenettle, Horseweed, Jimsonweed, Johnny-jumpup violet, Knawel, Knotweed (prostrate), Kochia, Lambsquarters, Lespedeza, Mallow (alkali, bristly, common, dwarf, Venice), Marcela, Matchweed, Mexican-weed, Moneywort, Morningglory (bigroot, ivyleaf, red, tall, woolly), Mugwort, Mustard (ball, black, blue, hedge, Indian, tansy, tumble, white, wormseed), Nettle (stinging, tall, wood), Parsley-piert, Parsnip, Pearlwort, Pennycress, Pepperweed (perennial, Virginia), Pigweed (prostrate, redroot, Russian, smooth, tumble), Pineapple weed, Plains coreopsis (tickseed), Plantain (black-seed, bracted, broadleaf, buckhorn, hoary, narrow-leaf, slender, woolly), Poison ivy, Poison oak, Pokeweed, Prairie sunflower, Prickly lettuce (compass plant), Prickly sida, Prostrate knotweed, Puncturevine, Purslane (common), Pusley (Brazilian, Florida, large flower), Ragweed (bur, common, lance-leaf, western), Redstem filaree, Rough cinquefoil, Scarlet pimpernel, Shepherd's purse, Smartweed (ladysthumb, pale, Pennsylvania), Smooth chaff-flower, Smooth dock, Sorrel (red), Sowthistle (annual, spiny), Spanish needles, Speedwell (bi-lobed, common, corn, ivyleaf, Persian, purslane, slender, snow, thyme-leaf), Speedwell, Spiny amaranth, Spurge (spotted, prostrate), Star of Bethlehem, Strawberry (Indian mock), Tansy ragwort, Tanweed, Thistle (blessed, bull, Canada, Flodman's, musk, plumeless, prairie, Russian, Scotch, wavy-leaf, yellow), Trailing crown-vetch, Velvetleaf, Vervain (blue, hoary, prostrate, tall), Vetch (bird, hairy, milk, narrow-leaf, wild), Virginia creeper, Western clematis, Western salsify, Wild aster, Wild buckwheat, Wild carrot, Wild four-o-clock, Wild garlic, Wild lettuce, Wild marigold, Wild mustard, Wild onion, Wild parsnip, Wild radish, Wild rape, Wild strawberry, Wild sweet potato, Wild violet, Woodsorrel (creeping, violet, yellow), Woolly croton, Wormseed, Yarrow (common, western), Yellow Rocket
Kids & Pets
It is safe for pets and humans to reenter the space once the herbicide has thoroughly dried.
Our Environment
In an effort to protect surrounding ecosystems, do not apply directly on or near water or storm drains, gutters, sewers, or drainage ditches, or within 25 feet of rivers, fish ponds, lakes, streams, reservoirs, marshes, estuaries, bays, and oceans.
In addition, applications made in calm weather when rain is not predicted for 24 hours will help ensure that the product remains in the treatment area.
bvseo_sdk, dw_cartridge, 18.2.0, p_sdk_3.2.0
CLOUD, getReviews, 7ms
reviews, product
bvseo-msg: Unsuccessful GET. status = 'ERROR', msg = 'Not Found.'; Unsuccessful GET. status = 'ERROR', msg = 'Not Found.';