Ortho® WeedClear™ Lawn Weed Killer South Ready-to-Use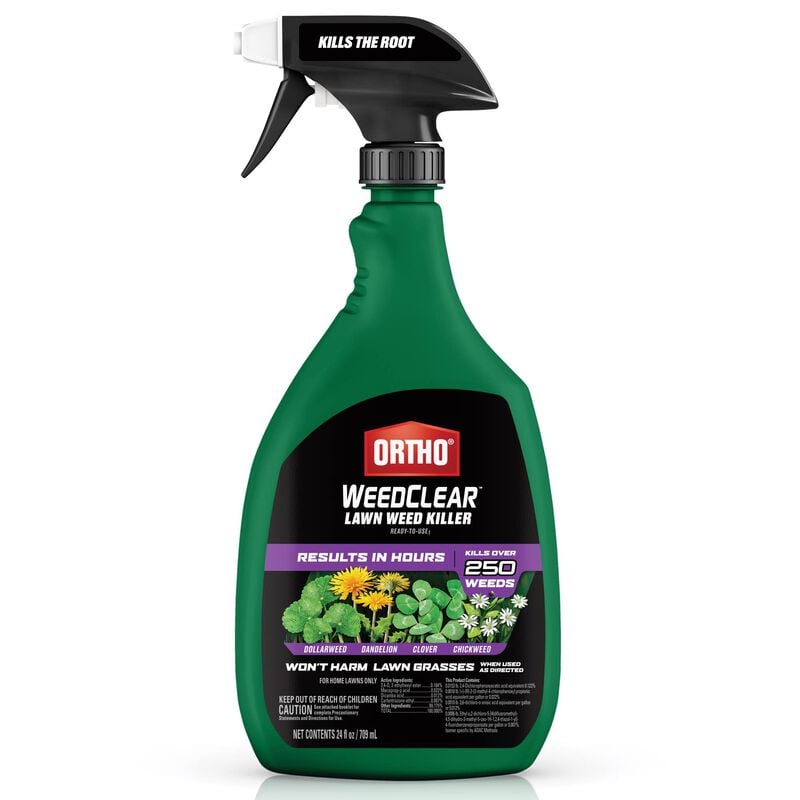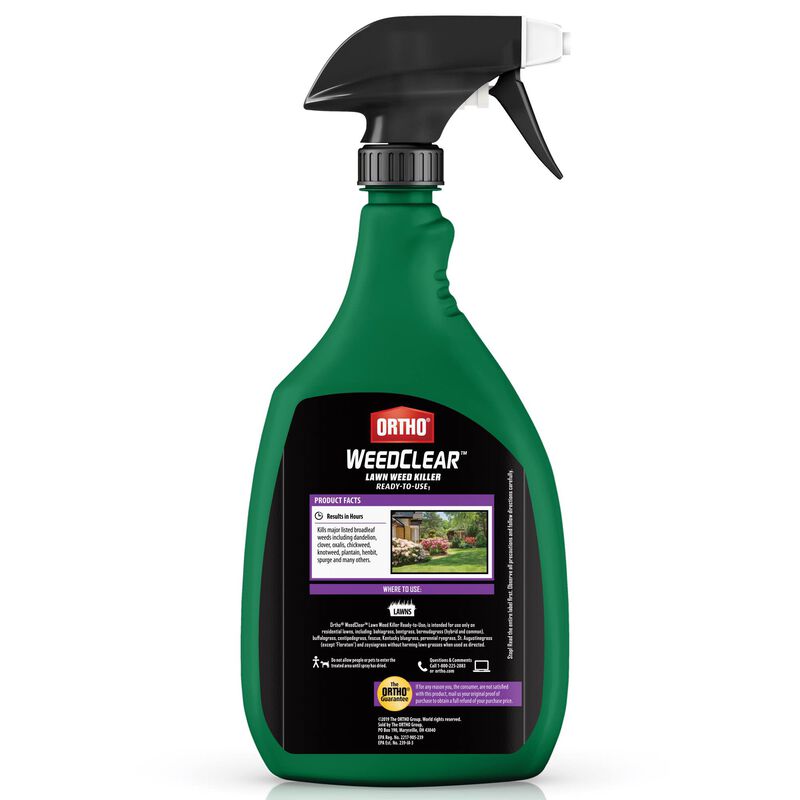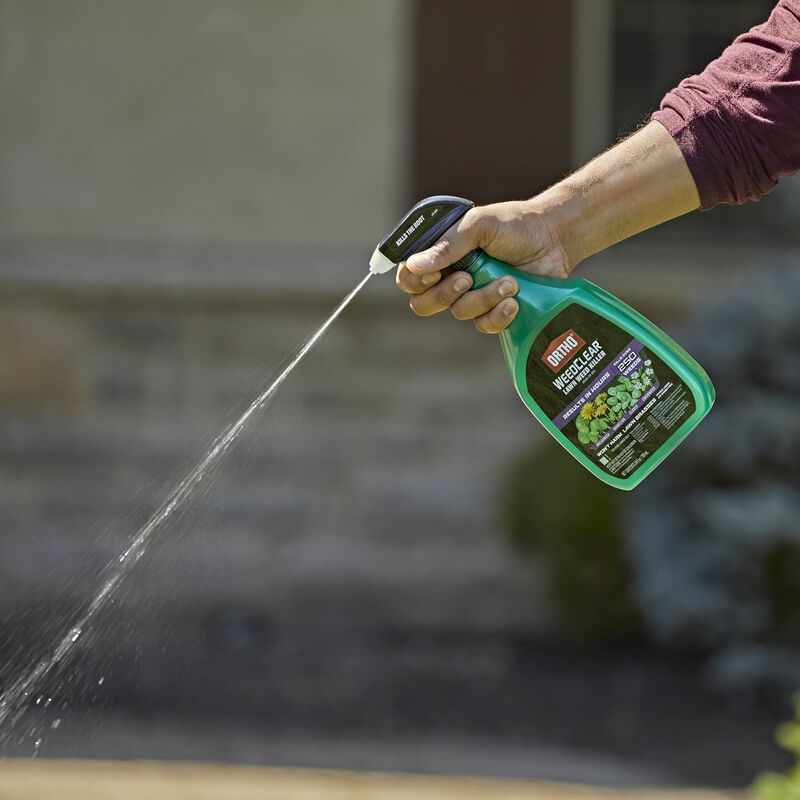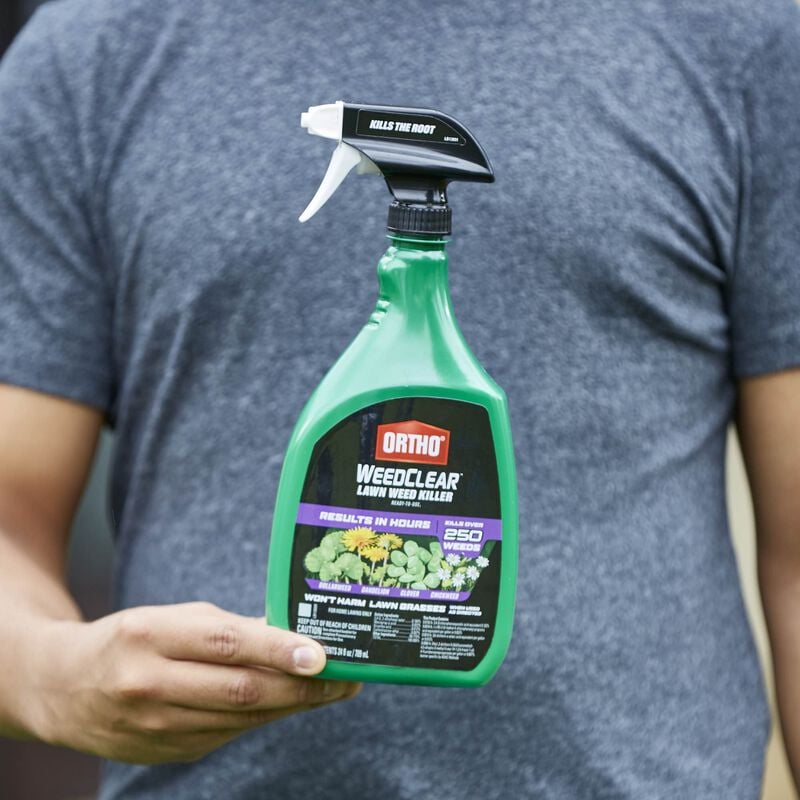 Ortho® WeedClear™ Lawn Weed Killer South Ready-to-Use
Product Applicator Type
X
---
Comfort Wand®
The battery-powered Comfort Wand® gives your hands a break with its one-touch continuous spray.
Trigger Sprayer
The Trigger Sprayer is all about great value and ease of use. Simply point and squeeze.
Concentrate
The best value for large areas. Mix the specified amount of product with water in a backpack, pump, hose-end, or power sprayer then spray uniformly as a broadcast or spot treatment. You can also use with the Ortho® Dial N Spray® Hose-End Sprayer and eliminate measuring and mixing altogether!
Refill
Simply attach the battery-powered Ortho® Comfort Wand® from your previous bottle to your new Refill bottle to spot treat weeds with a continuous stream — no bending or pumping required.
Ready-To-Spray
Attaches to a garden hose to treat large areas quickly and easily. No mixing or measuring!
24 oz. Trigger
Perfect for spot-treating! Simply point and squeeze.
Overview
Kill weeds in your lawn, including dollarweed, dandelions, clover, and chickweed with Ortho® WeedClear™ Lawn Weed Killer
Get results in hours
Kills weeds to the roots but won't harm the lawn grass (when used as directed)
For use on grasses, including bahiagrass, bentgrass, centipedegrass, zoysiagrass, and St. Augustinegrass (except Floratam)
Trigger sprayer makes it easy to spot treat weeds
Specs and Details
Active Ingredients
2,4-D, 2-ethylhexyl ester: 0.184%
Mecoprop-p acid: 0.022%
Dicamba acid: 0.012%
Carfentrazone-ethyl: 0.007%
Cautions
Our goal is to keep our customers safe. That's why we highly recommend wearing a long-sleeved shirt, pants, socks, shoes, and gloves when administering this product. Be mindful to avoid contact with the skin, eyes, or clothing and wash thoroughly with soap and water following application.
Disposal Methods
The Ortho® WeedClear™ Lawn Weed Killer container is non-refillable and should be disposed of in the trash or offered for recycling if available. If some herbicide remains in the container, call your local solid waste agency for disposal instructions. Under no circumstances should the unused product be disposed of down any indoor or outdoor drain.
Product Label
This is not the product label. Always read and follow the product label before use.

Safety Data Sheets can be found at scottsmsds.com
Description
Ortho® WeedClear™ Lawn Weed Killer Ready-to-Use1 kills many types of broadleaf weeds (as listed), and it won't harm your lawn (when used as directed). With results in hours, it kills over 250 weeds down to the roots, including dandelion, clover, oxalis, chickweed, knotweed, plantain, henbit & spurge. Easily apply to weeds with the trigger sprayer. For use on multiple lawn varieties, including Kentucky bluegrass, perennial ryegrass, fescues, common bermudagrass, hybrid bermudagrass, bahiagrass, bentgrass, buffalograss, centipedegrass, zoysiagrass, and St. Augustinegrass (except Floratam). Use Ortho® WeedClear™ Lawn Weed Killer to kill weeds to the roots!
Step by Step Instructions
How to Use
Easily apply to weeds with the trigger sprayer.
When and Where to Use
Where Not to Use
For the safety of our customers and the environment, do not use this product to control weeds in vegetable gardens, flower beds, around shrubs, or near ornamental plants.
Where to Use
Intended for use only on residential lawns including Kentucky bluegrass, perennial ryegrass, fescues, common bermudagrass, hybrid bermudagrass, bahiagrass, bentgrass, buffalograss, centipedegrass, zoysiagrass, and St. Augustinegrass (except Floratam).
When to Apply
For the best weed killing results, spray when broadleaf weeds are young and actively growing, and air temperatures are not expected to exceed 90°F for 6 hours. Although this herbicide can be applied in the spring, summer, or fall, applications in the summer tend to be less effective. Under adequate soil moisture conditions, spring and fall treatments tend to offer best results.
How Often to Apply
Despite the power of this herbicide, certain persistent weeds may require a repeat application no sooner than 30 days. To ensure the longevity of your lawn, limit treatments (including spot treatments) to 2 times per year.
Special Instructions
Watering Tips
Rain or watering 6 hours after application will not wash away effectiveness.
Using With Other Products
In the event of an insect infestation, apply Ortho® BugClear™ Insect Killer for Lawns & Landscapes no sooner than 4 weeks after application. You may apply plant food and soil one week following the herbicide application.
Frequently Asked Questions
What it Controls
Weeds Controlled
Amaranth, purple; Amaranth, slender; Aster, heath; Aster, white heath; Aster, purple; Aster, white prairie; Artichoke; Austrian fieldcress; Bedstraw, catch-weed; Bedstraw, smooth; Bedstraw, northern; Bedstraw, pineywoods; Beggar-ticks, hairy; Betony, Florida; Bindweed, field; Bindweed, hedge; Bitter Wintercress; Bitter-cress, hairy; Bitterweed; Black-eyed Susan; Black medic; Blood-flower milkweed; Blue lettuce; Brassbuttons; Bristly oxtongue; Broomweed; Buckhorn; Bull-nettle; Bur-clover; Burdock; Burweed, lawn; Buttercup, bulbous; Buttercup, creeping; Buttonweed, common (poorjoe); Buttonweed, Virginia; Carolina geranium; Carpetweed; Catnip; Catsear, spotted (false dandelion); Chamber bitter; Chickweed, common; Chickweed, mouse-ear; Chickweed, sticky; Chicory; Cinquefoil; Clover, crimson; Clover, Alyce; Clover, hop; Clover, rabbit-foot; Clover, red; Clover, strawberry; Clover, yellow sweet; Clover, white sweet; Clover, white; Cockle; Cocklebur; Cocklebur, spiny; Common mullein; Corn spurry; Creeping beggar-weed; Creeping Jenny (creeping Charlie); Cupid's shaving brush; Cudweed; Daisy, English; Daisy, oxeye; Dandelion, common; Dandelion, false; Day-flower; Deadnettle; Dichondra; Dock, broadleaf; Dock, curly; Dogbane; Dog-fennel; Dollarweed (Pennywort); Dove-weed; Elderberry; Falseflax; False sunflower; Fiddleneck; Filaree, redstem; Filaree, whitestem; Fleabane, daisy (annual); Fleabane, rough; Galinsoga, hairy; Galinsoga, smallflower; Goldenrod; Ground ivy; Groundsel; Gumweed; Hairy fleabane; Hawkweed, meadow; Hawkweed, mouse-ear; Hawkweed, orange; Hawkweed, yellow; Healall; Heart-leaf drymary; Hemp; Henbit; Hoary-cress; Horsenettle; Horseweed; Jimsonweed; Johnny-jumpup violet; Knawel; Knotweed, prostrate; Kochia; Lambsquarters; Lespedeza; Mallow, alkali; Mallow, bristly; Mallow, common; Mallow, dwarf; Mallow, Venice; Marcela; Matchweed; Mexican-weed; Moneywort; Morningglory, bigroot; Morningglory, ivyleaf; Morningglory, red; Morningglory, tall; Morningglory, woolly; Mugwort; Mustard, ball; Mustard, black; Mustard, Indian; Mustard, tansy; Mustard, tumble; Mustard, white; Mustard, blue; Mustard, hedge; Mustard, wormseed; Nettle, stinging; Nettle, tall; Nettle, wood; Parsley-piert; Parsnip; Pearlwort; Pennycress; Pepperweed, perennial; Pepperweed, Virginia (Peppergrass); Pigweed, prostrate; Pigweed, redroot; Pigweed, Russian; Pigweed, smooth; Pigweed, tumble; Pineapple weed; Plains coreopsis (tickseed); Plantain, black-seed; Plantain, bracted; Plantain, broadleaf; Plantain, buckhorn; Plantain, hoary; Plantain, narrow-leaf; Plantain, slender; Plantain, woolly; Poisonivy; Poison oak; Pokeweed; Prairie sunflower; Prickly lettuce (compass plant); Prickly sida; Prostrate knotweed; Puncturevine; Purslane, common; Pusley, Brazilian; Pusley, Florida; Pusley, large flower; Ragweed, bur; Ragweed,common; Ragweed, lance-leaf; Ragweed, western; Redstem filaree; Rough cinquefoil; Scarlet pimpernel; Shepherd's purse; Smartweed; ladysthumb; Smartweed, pale; Smartweed, Pennsylvania; Smooth chaff-flower; Smooth dock; Sorrel, red (sheep); Sowthistle, annual; Sowthistle, spiny; Spanish needles; Speedwell, bi-lobed; Speedwell, common; Speedwell, corn; Speedwell, ivyleaf; Speedwell, slender; Speedwell, snow; Speedwell, thyme-leaf; Spiny amaranth; Speedwell, Persian; Speedwell, purslane; Spurge, spotted; Spurge, prostrate; Star of Bethlehem; Strawberry, Indian mock; Tansy ragwort; Tanweed; Thistle, blessed; Thistle, bull; Thistle, Canada; Thistle, Flodman's; Thistle, musk; Thistle, plumeless; Thistle, prairie; Thistle, Russian; Thistle, Scotch; Thistle, wavy-leaf; Thistle, yellow; Trailing crown-vetch; Velvetleaf; Vervain, blue; Vervain, hoary; Vervain, prostrate; Vervain, tall; Vetch, bird; Vetch, hairy; Vetch, milk; Vetch, narrow-leaf; Vetch, wild; Virginia creeper; Western clematis; Western salsify; Wild aster; Wild buckwheat; Wild carrot; Wild four-o-clock; Wild garlic; Wild lettuce; Wild marigold; Wild mustard; Wild onion; Wild parsnip; Wild radish; Wild rape; Wild strawberry; Wild sweet potato; Wildviolet; Woodsorrel, creeping; Woodsorrel, violet; Woodsorrel, yellow (Oxalis); Woolly croton; Wormseed; Yarrow, common; Yarrow, western; Yarrow, yellow; Yellow Rocket
Kids & Pets
It's safe for pets and humans to reenter the space once the herbicide has thoroughly dried.
Our Environment
Eliminate weeds without compromising surrounding ecosystems by avoiding product drift and runoff. During treatments, remain aware of nearby storm drains, drainage ditches, gutters, or surface waters.
bvseo_sdk, dw_cartridge, 18.2.0, p_sdk_3.2.0
CLOUD, getReviews, 7ms
reviews, product
bvseo-msg: Unsuccessful GET. status = 'ERROR', msg = 'Not Found.'; Unsuccessful GET. status = 'ERROR', msg = 'Not Found.';